Matt On Failure
"A student asked a question recently about a problem they were having during a drill. They kept putting their arm in a particular place, and getting thrown off top.My initial answer was: "stop putting your arm there."That may seem flippant, but, it's important we remember the real point of drilling. The point of a drill is not to "win" the drill. The point of a drill is to change and evolve during the drill.Failure isn't just "okay." Failure is an essential part of that process.When you correct a mistake, adjust an angle, or reconsider a posture – during the round – you're playing an active role in your game's evolution.And that is what drilling is all about." – Matt Thornton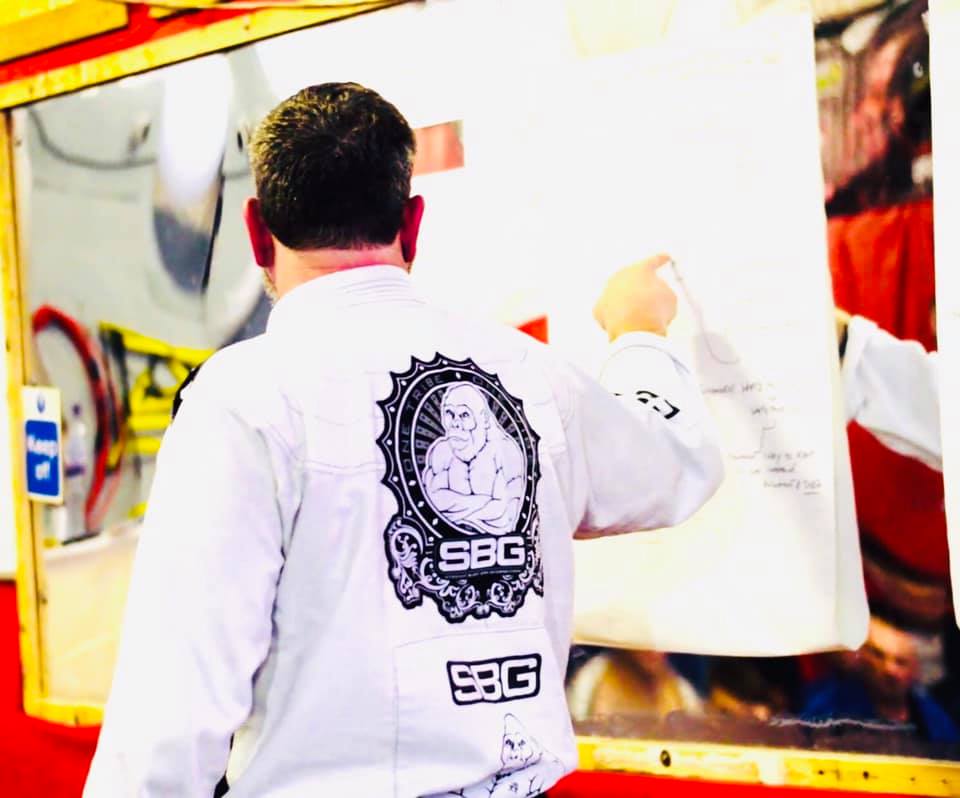 May's Podcast Featuring Forrest Griffin
June's Podcast Featuring JKD Legend Tim Tacket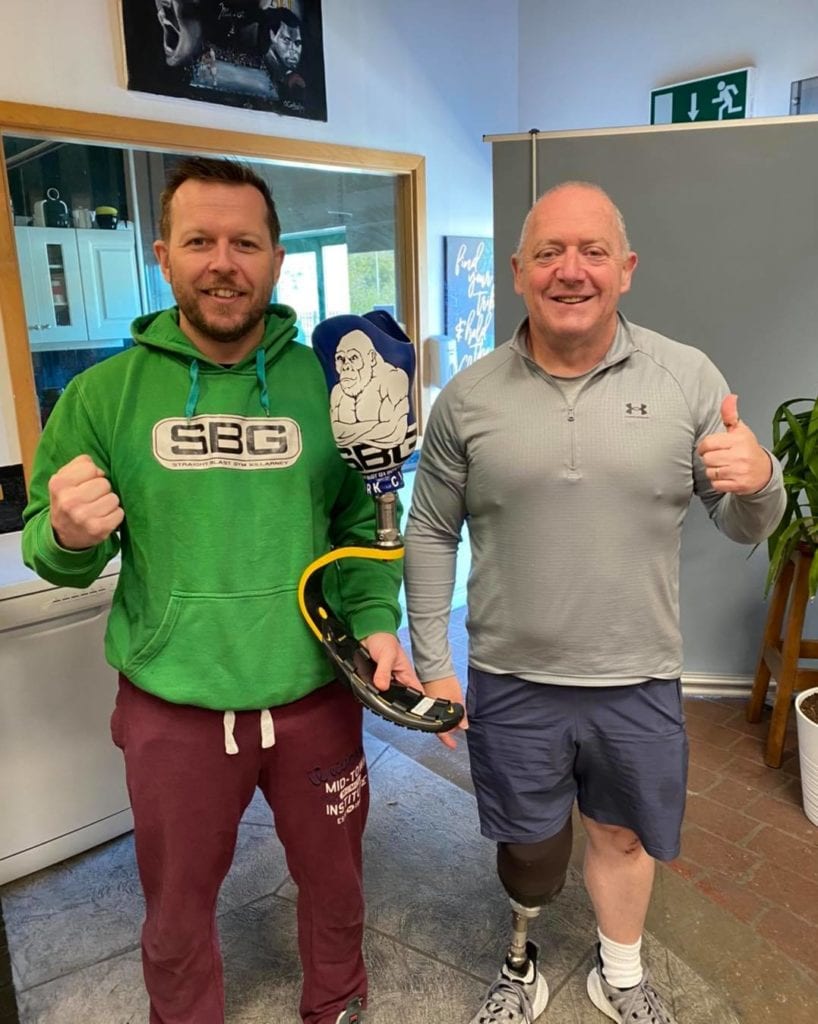 Good News From SBG Cork
"What a day !!!!Thanks to everyone for supporting Sean O'Leary achieve part 1 of his goalToday he collected his new Blade , check out the cool logoNext goal is in progress for triathlonAnd goal 3 announcement is going to be huge"
Check Out Liam-Og's Podcast Here-
"In the aftermath of World War 1 and the Spanish Flu pandemic, the devastation of life, culture and economics was akin to a global forest fire. While irreparable and indescribable damage and suffering was inflicted, what was left behind was a metaphorical clearing, a gap for green shoots to reach for the light of the sun. Delicate sprouting leaves that would have previously struggled in the shade of crowded canopies were gifted an opportunity to get a head start in life. How can you position yourself to take advantage of the post-covid landscape and take part in the 21st century's roaring 20's?Well, that's exactly what we discussed this week. After a bit of a sabbatical, we are back to our normal schedule at the (FCPGM) The Fight Coach, the Psychotherapist and the Gym Momma Podcast.Episode 30 went live this weekend and you can catch it on your favourite podcast app or alternatively watch it on youtube.
Youtube: https://youtu.be/BPLApwRgDMk
New episodes every Saturday at noon so be sure to subscribe so you don't miss any." – Liam-Og Griffin
Matt Joined Lou Perez to speak about jiu jitsu and fatherhood.
The Legend That Rigan is and the Respect he deserves.
A while ago Rigan was kind enough to do some training with from what we can tell is Tye Lopez. Here's what Matt had to say about the exchange and the resulting roll.
"You're going to want to turn the sound down to avoid the stupid. And there's something shameful about an environment where a legend like Rigan can be "challenged" by a fool. If this were an SBG there would be dozens of purple, brown, and black belts they'd need to go through first.That said, Rigan's movement is efficiency incarnate." – Matt Thornton
It's true this would never fly in an SBG. Rigan handled it with all the grace in the world, he was kind and gentle with the fool.As John Kavanagh said- "I stopped teaching outside SBG a long time ago to avoid fools like this."https://player.vimeo.com/video/162950507
Congratulations To SBG Alabama For Their New Orleans Wins
Welcome To The Tribe B.C.
B.C. Jiu jitsu is a newer academy located in Cumberland Maryland. Be sure to hop on their facebook page HERE to show some support and welcome them to the tribe.
From B.C.
"MAJOR ANNOUNCEMENT!!!!
B.C. Jiu Jitsu is now an official affiliate school of Straight Blast Gym International!! SBGI are a global network of high level coaches for BJJ, Self Defense, striking and MMA. We are honored to be under the umbrella of such respected martial artists. Check out their info here…
www.straightblastgym.com"

SBGU And Student Request
SBGU found HERE, is still growing and with that growth we've started to see more student request come in. Being able to bring you the content you want and need is a mission for us here at SBGU. Join the university and submit some request of your own. Check out the videos below for a small sample of what the students got this month.
From Matt – "Are footlocks more dangerous?At what stage should footlocks be introduced to new students?Did the Brazilians have good footlocks when they first arrived to the States?What makes a footlock efficient?Why did one of Rickson's black belts tap me with the same footlock, over and over, 30 years ago?All that and more in today's 20-minute instructional on all things footlocks!
What Next?
Each year Matt Thornton approaches a new topic for his seminars and his annual curriculum release on SBGU. What do you want to see him work next?
"Topics of the year have included low mount top, closed guard, survive & escape, guard passing, and mount escapes.What topic of the year would you like to see in the future? Let me know, below. "Click HERE for the thread.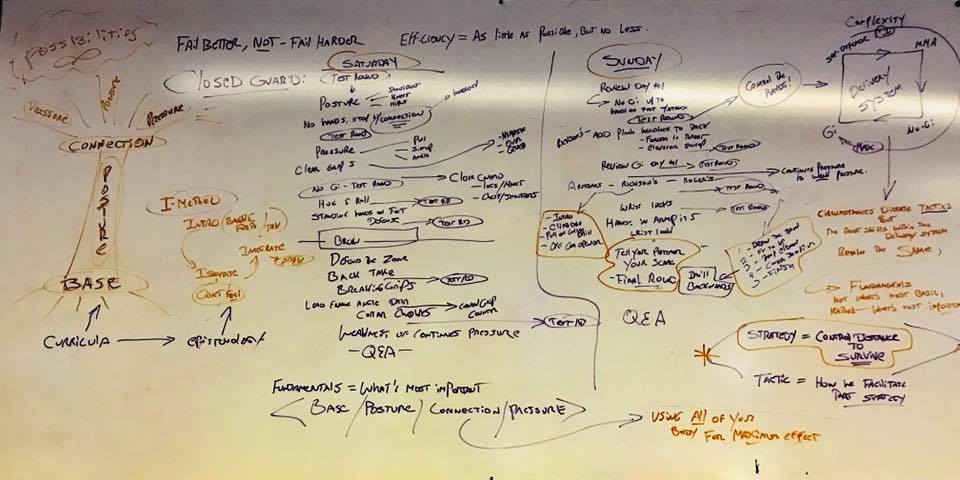 Building The Tribe World Wide
Davey Grant and Alex Enlund head to back to Vegas
"5 weeks tomorrow we head back in Vegas, Dangerous @daveygrantmma looks to add another to his 3 fight win streak and break into the UFC top 15" -Alex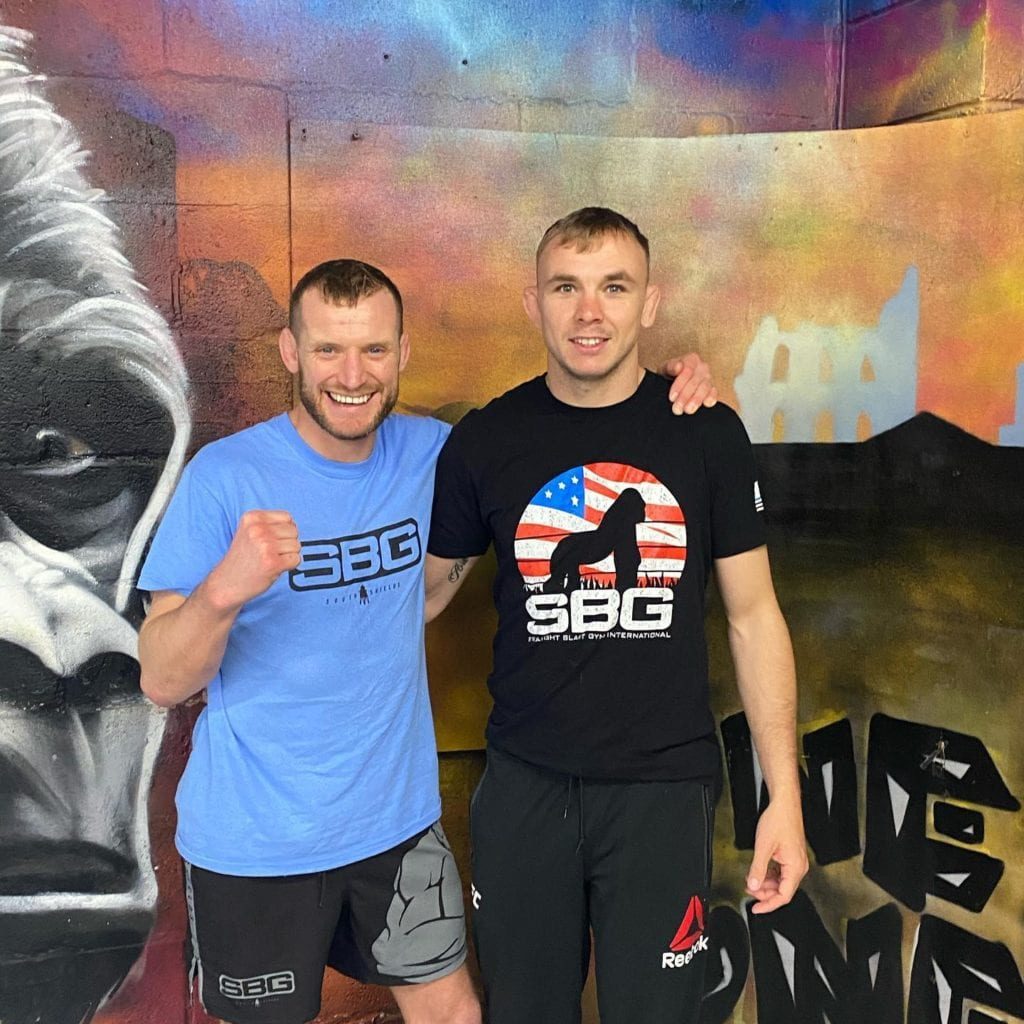 Coach Leah Taylor On Building Strong Women
"I want to teach all of the women around me to be warriors.
I had the privilege of leading another self defense seminar for local ladies yesterday.
We spend a lot of the time working on confident and assertive body language.
I also try to make sure that every woman who takes the class finds their voice.
Women are coached their whole lives to never make a scene. In some cases breaking this social norm could save their lives.
Thank you to all of the strong brave ladies and men who volunteered their time to educate others that day.
   – Leah Taylor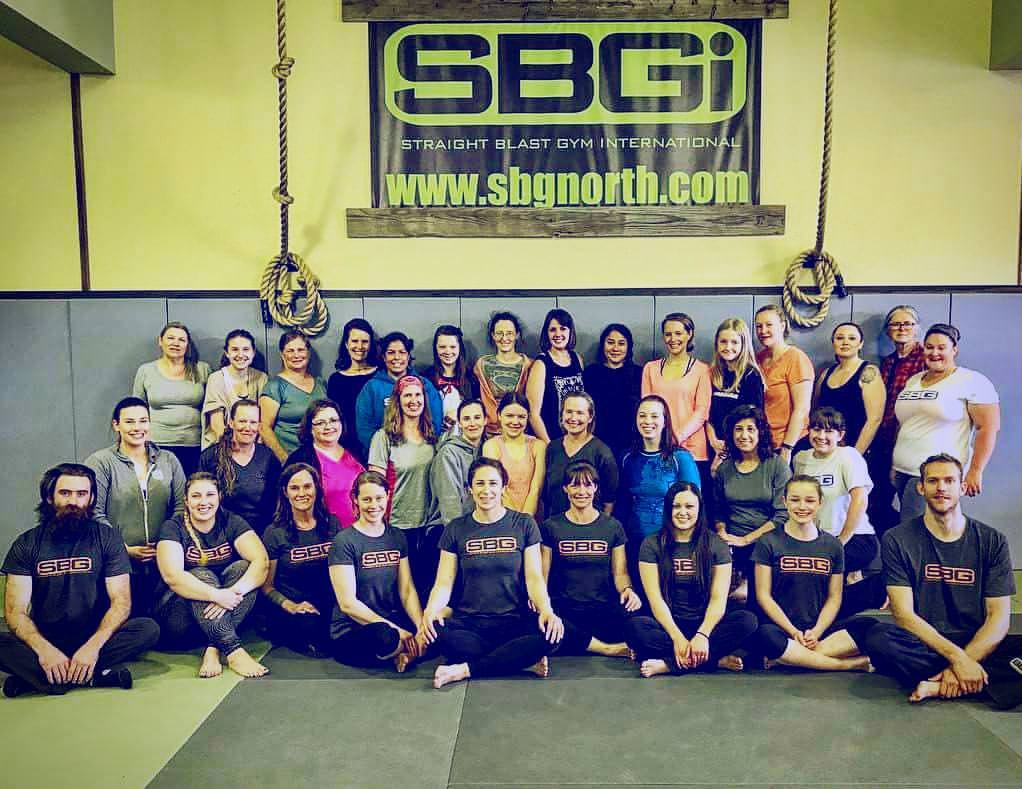 FlatHead Headlines
"Wimp2Warrior made headlines in the latest issue of the Flathead Beacon! Check out the article on the Series 3 finale, and if you're still on the fence about trying out for Series 4, we know this will persuade you. "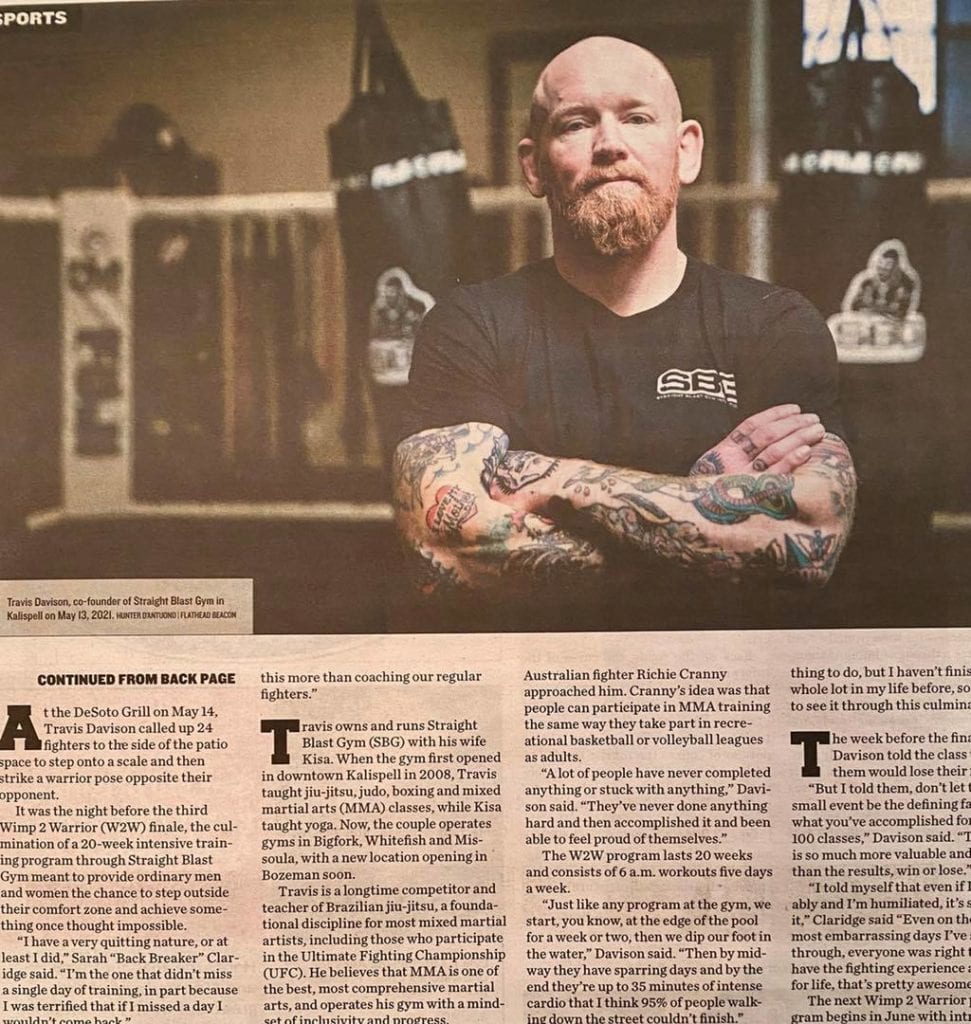 Training And Progress
"I was very happy to award some well earned promotions this evening.As I've mentioned before, you don't automatically get stripes as a black belt. They're put on by your coach, and they indicate your continued contributions to your art, your students, and your tribe. No one has made a bigger contribution to SBG Headquarters than our senior black belt and head MMA coach – the heart and soul of the gym – Rick Davison. And it was an honor to put on his 3rd stripe tonight.I was also happy to award Vanessa Mariscal her well earned black belt. She's been a brown belt at our gym for a few years now, she's shown herself to be a good coach, and she really stepped up during covid to help keep others motivated and training. So please welcome SBG's newest black belt, Vanessa.Finally, Dr Jon. When you get to brown belt you need to have more than just technical skill, you also need to show me that you can pass the art on. Jon's done all that, a talented Jiu-Jitsu player, he also has a passion for teaching and preserving the art. And for all those reasons and more, I was proud to award him his well earned brown belt tonight.SBG."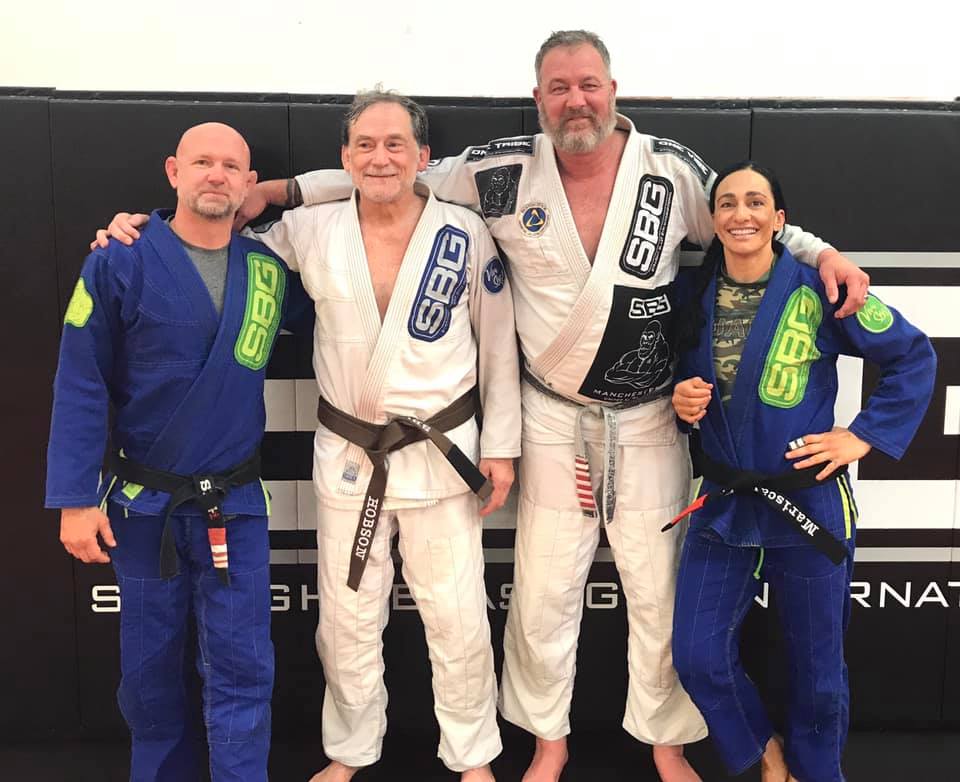 Make Some Of That Progress For Yourself At This Years Ladies Camp In Idaho!
From Coach Salome
"It's that time again, my favorite timeof the year!The time when the Strongest, Bravest, most Genuine women of the world, SBG's league of extraordinary ladies, migrate from near and far, crossing mountains, valleys, oceans and any terrain that divides them, to gather together, to conquer their fears and celebrate their victories, to train for the wars to come and let love reign while it can!It is SBG's annual Ladies camp 2021!!This year we will be hosting camp in Boise Idaho. A beautiful and very walkable quaint little town by the side of a fabulous mountain resort. We will train in the mornings, play in the afternoons and party after sundown.All the makings for an epic saga to tell for generations to come.Come join us sisters,come join our ranks,together we will change the world,one little lady at a time!For more information and registration, click the link below to be redirected to our camp website. Please contact me, Kisa, Leah, Daryl or Jill with any questions you might have. We will be happy to help you make this dream come true!http://sbgcamps.com "- Salome Thornton