Portlands First & Best Martial Arts Gym specialising in Brazilian Jiu Jitsu (BJJ), Martial arts (MMA), Self-Defense, and Kids Martial Arts.
Est. since 1992
WORLD CLASS, MIXED MARTIAL ARTS, BJJ AND FITNESS IN PORTLAND
At Straight Blast Gym, we produce results for everyone interested in martial arts – regardless of experience, athleticism or lack thereof. We focus on what works: the core fundamental principles. The science behind our training methods works for 45-year-old professors, 53-year-old attorneys, 22-year-old MMA fighters, and Oregon's most successful BJJ competition team!
"Love this place! I'm very new to Martial arts of any kind. At the time I was so scared and overwhelmed by all of the choices. I had my orientation which helped me decide where to start. I can't say enough about the atmosphere. Such a vast group of people all striving to thrive not only physically but emotionally, spiritually and mentally. All helping lift each other up."
"Go here if you want to learn the right way. SBG is as encouraging as it is challenging. The instructors make sure you learn proper technique. This is important in order for you to grow as a fighter. I have been a member at other gyms and it was so ego-driven. You will not find that at SBG. Instead, you will find a supportive community that helps you to get to the next level in your training."
"Awesome gym with great coaches! These guys know their jiu-jitsu, and most importantly they know how to teach each individual to be their best. All of the other students are great too, there's a real social atmosphere in the gym. If you're looking to get into Brazilian Jiu-Jitsu or
Mixed Martial Arts
, there's no better gym in Portland!"
The latest news and articles to keep your mind fit
The gift of violence is here! Read rickson's review Book update. First off, I want
Read More »

Paul Sharp On MDOC 2 " YO Heading to Dallas this weekend to teach MDOC
Read More »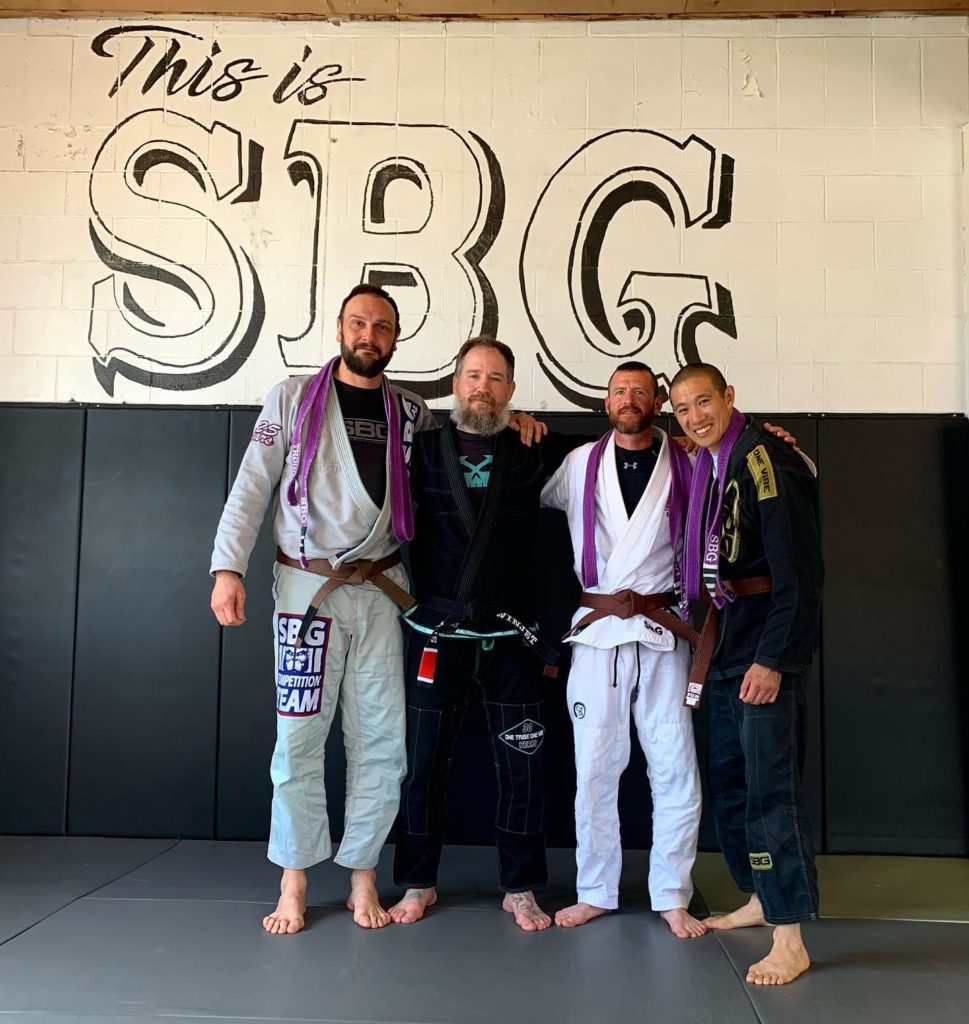 SBG Texas Leading The Way In New SBG Territory This sends a strong message to
Read More »
Martial Arts Training For Everyone
In SBG everyone is welcome, 45-year-old professors, 53-year-old attorneys, 22-year-old MMA fighters, women, children. Our training is designed to fit everyone's needs and our coaches welcome anyone who want to learn regardless of age, experience, or athleticism or lack thereof.
Training with us not only gives you practical self-defense skills, but it will get you into kick-butt shape — FAST. The total-body exercises that coincide with martial arts training help you develop functional lean muscles, and NOT bulky do-nothing muscles. You'll become a lean, mean, fighting machine.
SBG family has over 50 locations around the world, and can be found on every continent. Joining this gym also means you become a part of this family. By being a member of our team you'll experience the passion, excitement, and team spirit that's committed to helping each other improve each and every day!
Our instruction is based on basic fundamental principles and techniques allowing you to improve as quickly as possible. These lessons give you physical and mental preparation for life, the street, or the cage. Our professionals ensure you get the most out of your training.