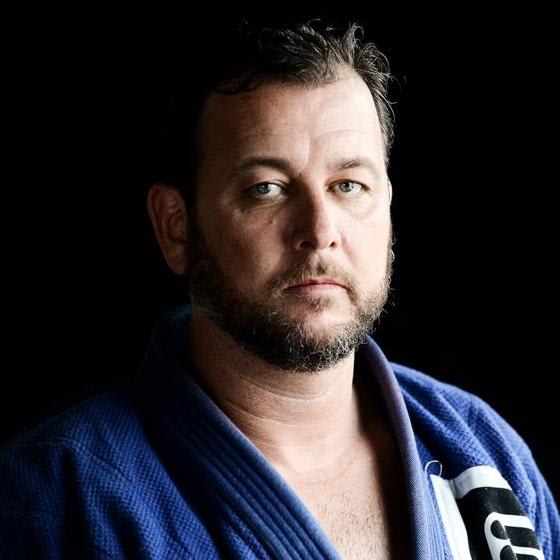 Matt Thornton
Having been introduced to Brazilian
Jiu Jitsu
in 1991, Matt Thornton was part of an early group of Americans to become involved in the art. He was also the first person from the State of Oregon to receive a black belt. Brazilian
Jiu Jitsu
(BJJ) gained popularity after the airing of the first UFC on November 12, 1993. It was at that time BJJ became the focal point of what is now considered Mixed Martial Arts.
As a teacher, Matt produced a video in 1999 titled, "Aliveness". It went on to become one of the top sellers of all time in the martial arts community. The tapes set off a firestorm of controversy, and remain a central catalyst in the Martial Arts training revolution still taking place all over the world. They were voted as one of the top five self-defense videos of all time by Black Belt magazine.
Martial Arts video reviews said:
"If you buy only one set of videos this year, let these be the ones. If you believe that there has been an evolutionary development in the martial arts over the last few decades, from Bruce Lee to the Gracies to the all-round fighters of then you will want to see these tapes. If you have to sell your body to medical science or your sister to an Arab oil sheik, buy these tapes!"
Matt's first series still remains a top
seller,
and has sold in over 70 countries.
As a coach, he has awarded ten of his own Brazilian Jiu-Jitsu black belts. The list
includes:
Famed UFC coach, and father of MMA in Ireland, John Kavanagh; the UK's most successful MMA coach, Karl Tanswell; as well as other great teachers, competitors, and trainers of champions.
Over the decades Matt has worked with some of the best MMA fighters, grapplers, and combat athletes in the world. This list includes UFC hall of
famers
Randy Couture, Dan Henderson, Forrest Griffin, and others. He also responsible for producing Oregon's first and presently only, Mundials world champion.
"The training with Matt
Thornton,
and SBG has been instrumental in my preparation for reality fighting in the UFC. Matt's expertise in stand-up and ground fighting techniques has helped me win the Ultimate Fighting Championships." – Randy Couture (UFC Legend)
Matt has been hired to teach seminars on functional martial arts all across the globe,
including:
Germany, Canada, Singapore, Japan, Denmark, the UK, Ireland, Sweden, Reunion Island, Thailand, and France, to name a few.
In addition, he was the first Instructor to bring the arts of Brazilian Jiu-Jitsu and MMA to both Reunion Island, as well as the Nation of Iceland; where he met his wife, Salome.
In 1993 Matt received his blue belt from the legendary Rickson Gracie. He met his main coach, Chris Haueter the same year. Chris is part of an elite group, known in the BJJ community, as the "dirty dozen". These are the first twelve Americans to earn a black belt in the art of Brazilian Jiu-Jitsu. Matt appreciated Chris' conceptual and no-nonsense approach. Chris became a regular guest in Oregon for seminars and training. Matt's school, SBG, became Oregon's first MMA style gym. Eventual spin-offs included Team Quest, Impact Jiu-Jitsu, Nemesis Academy and many more.
Chris Haueter awarded Matt his purple, brown, and in 2001, his black belt.
In addition to running his own Academy in Portland, Oregon for over twenty years, Matt is Head Coach of Straight Blast Gym International (SBGi); an organization comprised of over forty affiliate gyms in more than eleven countries. His duties include coaching top-tier athletes and giving workshops on Aliveness around the world. This has allowed Matt the opportunity to write and be published in martial arts publications such
as:
Black Belt magazine, Inside Kung Fu, Martial Arts Legends, Fighters, Martial Arts Illustrated, and many more.
NY Times best-selling author Sam Harris said:
"Matt Thornton is one of the clearest Martial Arts instructors I have come across."
Matt's main emphasis over the last decade has been addressing superstition as it relates to the fields of sports training, combat sports, and martial arts. The methodology known as aliveness was designed as a tool to help people distinguish between fact and fiction.
In the past few years, his writing has branched off into other areas. He is currently working on a book covering the topic of violence and its relationship to both combat sports and skepticism.